10. Ducati 1098s
Ducati 1098 dengan 1099 cc L-twin sport bike pabrikan Ducati (dipasarkan 8 November 2006). Motor dengan 160 horsepower, 90.4 ft-lb torque(torque terbesar dari semua sport bike yang perna ada), dengan berat 173kg.
Features:
Engine: L-twin cylinder, 4 valves per cylinder Desmodromic, liquid cooled
Top Speed: 169 miles per hour (271 km/h)
Power: 119.3 kW (160.0 bhp) @ 9750 rpm
Transmission: 6 speed Chain
9. BMW K 1200 S
Motor pabrikan BMW (dipasarkan 25 September 2004) yang hanya membutuhkan waktu 2,8 detik untuk mencapai kecepatan 60 mil/jam. Motor dengan 4 cylinder, liquid-cooled engine dengan 123 kW (165 hp).
Features:
Engine: 16 valves, 4 cylinders, DOHC, horizontal in-line, liquid cooled
Top Speed: 174 miles per hour (278 km/h)
Power: 164.94 horsepower (120.4 kW) @ 10250 RPM
Transmission: 6 speed manual
8. Aprilia RSV 1000R Mille
Motor yang merupakan limited-edition RSV Mille Factory yang memiliki high performance V-twin powered motorcycles pabrikan Aprilia dengan mesin 141 HP 998 cc engine built by the Austrian company Rotax.
Features:
Engine: 998 cc 60 degree V-twin engine
Top Speed: 175 miles per hour (281 km/h)
Power: 105.24 kW (143.09 PS; 141.13 hp) @ 10000 rpm
Transmission: 6 speed, chain driven
7. Kawasaki Ninja ZX-11/ZZ-R1100
Motor yang diproduksi tahun 1990-2001, yang dipasarkan dengan nama ZX-11 Ninja di Amerika Utara dan ZZ-R1100 di seluruh dunia. Motor yang memiliki top speed 283 km/h (176 mph).
Features:
Engine: 1052 cc 4-stroke, 4-cylinder, DOHC, liquid-cooled
Top Speed: 176 miles per hour (283km/h)
Power: 108 kW (147 PS) @ 10,500 rpm
Transmission: 6 speed
6. MV Agusta F4 1000 R
F4 1000 R dipasarkan tahun 2006 dengan 174 horsepower (128 kW) engine. F4 1000 R dilengkapi dengan Brembo Monobloc radial brakes, forged black Brembo wheels, carbon-nitride coated Marzocchi upside down fork dan upgraded Sachs rear shock absorber (compression & rebound damping adjustable in high & low speed range). F4 1000 R dengan topspeed 185 mph (299 km/h) menempatkan motor ini dalam posisi 6 dalam 10 motor tercepat di dunia.
Features:
Engine: liquid cooled, inline, 4 cylinder, DOHC, 16 radial valves
Top Speed: 185 mph (299 km/h)
Power: 174 horsepower (128 kW)
Transmission: multi-disc wet clutch, 6 speed cassette gearbox
5. Yamaha YZF R1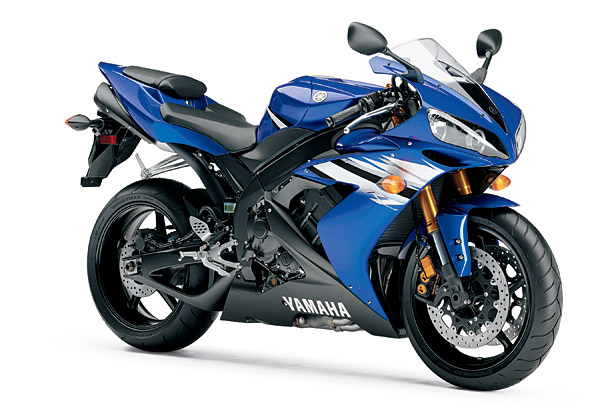 YZF-R1 merupakan redesigning The Yamaha YZF-R1 motorcycle yang diluncurkan Yamaha tahun 1998. Motor yang termasuk the true liter class (1,000 cc).
Features:
Engine: Forward Inclined Parallel 4-cylinder, 20 valves, DOHC, liquid-coole
Top Speed: 186miles per hour (297 km/h)
Power: 128.2 horsepower (95.6 kW) at 10000 rpm
Transmission: Constant mesh 6-speed
4. Honda CBR1100XX Blackbird
Honda CBR1100XX Blackbird merupakan motor yang pertama dibuat tahun 1996 dan terus dikembangkan hingga tahun 2007.
Features:
Engine: 1137cc liquid-cooled inline four-cylinder
Top Speed: 190 miles per hour (310km/h)
Power: 114 kW (153 hp) @ 10,000 rpm
Transmission: Close-ratio 6-speed
3. MTT Turbine Superbike Y2K
MTT Turbine Superbike, atau yang diasa dikenal Y2K Turbine Superbike adalah motor kedua di dunia powered by a turbine engine, yang dibuat oleh Ted McIntyre of Marine Turbine Technologies Inc. Powered by a Rolls Royce Allison 250 series turboshaft engine, dengan 238kW (320hp), motor ini memiliki top speed 227 mph (365 km/h), dengan harga US$150,000. Motor ini masuk dalam Guinness World Records dengan katagori the "Most powerful production motorcycle" dan the "Most expensive production motorcycle".
Features:
Engine: Rolls-Royce 250-C20 turbo shaft
Top Speed: 227 miles per hour (365 km/h)
Power: 320 horsepower (239 kW) @ 52,000 rpm
Transmission: 2-speed automatic
No 2. Suzuki Hayabusa
Motor dengan 1299 cc (79.2 cu in) inline-4 liquid-cooled engine yang dibandrol dengan harga $11,999 di Amerika.
Features:
Engine: 1340 cc (82 cu in), 4-stroke, four-cylinder, liquid-cooled, DOHC, 16-valve
Top Speed: 248 miles per hour (397 km/h)
Power: 197 horsepower (147 kW) @ 6750 rpm 147kW
Transmission: 6-speed, constant mesh
1. Dodge Tomahawk
Dodge Tomahawk adalah Viper V-10 based motorcycle yang memiliki 500 horsepower engine with four wheels. Dua ban di depan dan dua ban di belakang, menjadikan motor ini terlihat seperti motorized quadricycle daripada sebuah motorcycle. Dalam waktu 1.75 detik, motor ini mampu mencapai kecepatan 350 mph, dari top speed 676 km/h (420 mph). Chrysler(sang eyang) hanya menjual sembilan replicas, dengan harga $555,000 per motor.
Features:
Engine: 10-cylinder 90-degree V-type
Top speed: 350 miles per hour (560 km/h)
Power: 500 horsepower (370 kW) @ 5600 rpm (45 kW/L)
Transmission: 2-speed manual
sumber:
http://www.beritaunik.net/top-10/10-motor-tercepat-di-dunia-tahun-2010.html